The Barbara Smallbrock Library
In September 2008, a special donation was presented to the Oronoco Area History Center by Allen and Anne Koenig for the specific purpose of creating The Barbara Smallbrock Library. This library will pay tribute to Barbara's work and interest in the Oronoco area and the History Center. At this time, the Library is still in its preliminary stages. It is being handled by a committee appointed for the project.
Barbara was once a writer for the Rochester Post Bulletin. She contributed many articles about Oronoco and its citizens. These articles are in some of the many scrap books that Barbara has donated to the Center. She has also donated a copy of her very interesting autobiography.
Below is a picture of one of the items to be placed in the Library. The lovely doll is modeling the dress worn by Barbara Smallbrock when she was baptized many years ago.
(Click on the pictures to see larger versions.)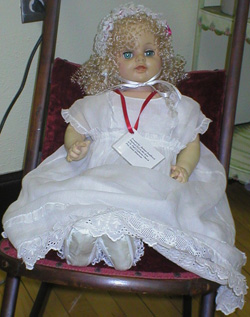 In 2008 and 2009, Barbara Smallbrock, former Postmaster of Oronoco for many years, loaned the History Center the following displays.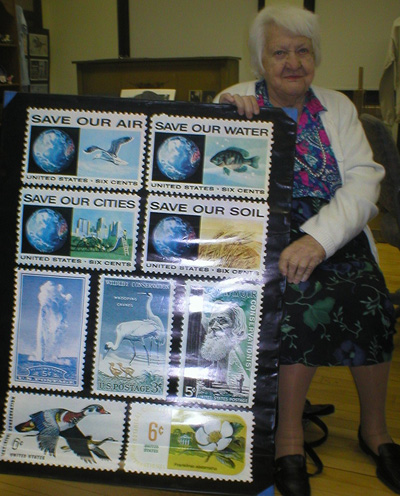 Other pictures of her stamp collections are shown below.