Oronoco Stories
Archived Posts from this Category
Posted by admin on 30 Jul 2011 | Tagged as: Oronoco Stories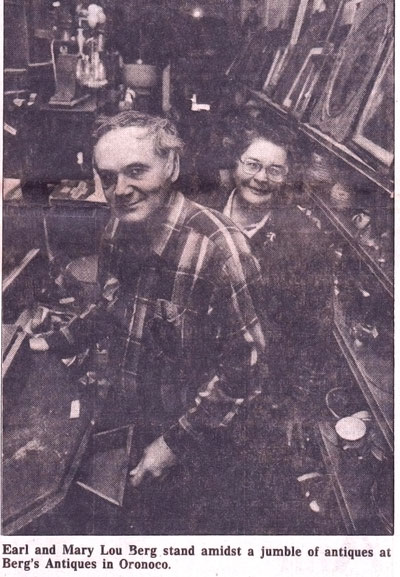 History of Oronoco Downtown Gold Rush
(from Interview with Mary Lou Berg in 2011;
Photo above from 1986 Rochester Post Bulletin)
Earl and Mary Lou Berg started selling live bait and tackle from their Oronoco garage in 1961. Two years later they bought the big brick building next to the bridge in uptown Oronoco and moved their bait business there. They added groceries, picnic supplies, and beer for tourists and fishermen.
The store was open from 6:00 a.m. to 9:00 p.m. They lived for two years in the back of the store in a partitioned-off area.
The brick building had been empty. It had belonged to the Ondler family and was a grocery and general store. It was still open in 1959, but was empty when the Bergs bought it in 1963.
Posted by admin on 20 Nov 2009 | Tagged as: Oronoco Stories
Here's a tidbit from our treasurer Kris Wiens for your enjoyment of a piece of history:
Brothers George, Edwin, and Agon Mohlke and their sister Esther were early settlers of the Oronoco and Rochester area.  Until 1922, the brothers and their wives produced only boys, but that year was different.  Myra was born in April to George and Mary in Oronoco; June arrived in June (of course!) to Agon and Mabel in Rochester; and Irene (Kris' mother) was born in July to Edwin and Martha in rural Rochester. The Mohlke girls shown in the photo below are (from left to right) June Mohlke Hubmer (now lives in Mankato); Kris' mother Irene Mohlke Peters (died in 1995); and Myra Mohlke Markham, who grew up in the Oronoco area and married a young man from her neighborhood.  The couple lived in Oronoco for many years until they both died in 2007.