By Hazel Markham
April 23, 2009
Travel east from Oronoco on Highway 12 about 3½ miles and you will come to a fork in the road. Highway 12 angles to the right and goes down hill and across the Sandy Point Bridge which spans the Zumbro River. If you take the left road instead, you will wind down the hill to another part of the river. Years ago, Highway 12 actually did go left at the point where it now divides into two roads. Highway 12 crossed over the Zumbro with a bridge called "White Bridge." Many of you readers will recall that bridge, but there are a lot of folks who do not remember it. White Bridge was moved there in 1918 from North Mankato where it was built in 1885. It stayed across Lake Zumbro from 1918 until 1972. In earlier times people came from miles around to the White Bridge area to fish and to swim.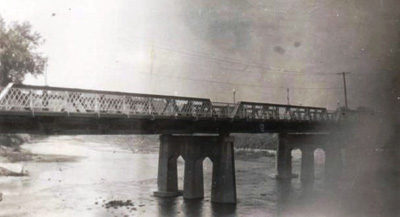 Early picture of White Bridge – 1925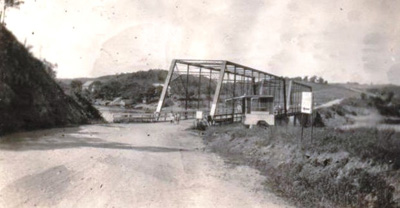 Early picture of White Bridge – 1925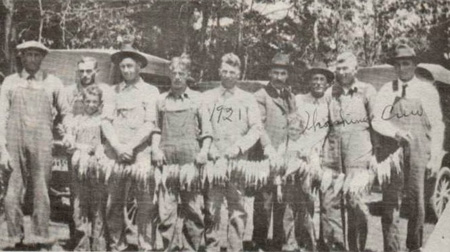 Thrashing Crew from Eyota fishing at White Bridge in 1925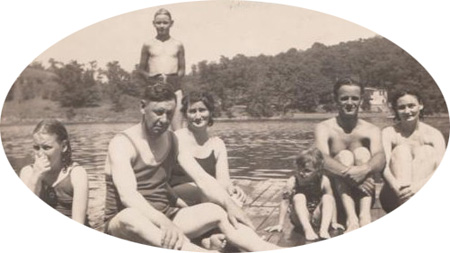 Rochester Family resting after swimming at White Bridge – 1940
The early history of this location involves several eating places that opened up along and near the lake. White Bridge was a popular place in those days. The name "White Bridge" sticks in some people's minds as the nickname for the area long after the bridge itself has been gone.
As one of the first of those early eating establishments, the Fisherman's Inn has also been there the longest. It was built on the west side of the river around 1930 and is still serving the public 79 years later. It provides a great view of the lake and the river.
Early Picture of White Bridge (Fisherman's Inn on the Right)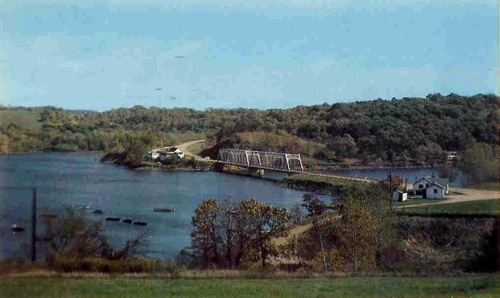 White Bridge and Fisherman's Inn on the right
In the mid '70's, a history was written by owner Nick Bowlus and was printed on place mats. It was done in bright pink and red and featured a picture of a handsome fisherman. This picture was used as a logo for the restaurant for several years.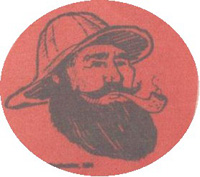 The placemat was revised when Jim Peterson owned the Fisherman's Inn much later.   According to the revised place mat, the following people owned the restaurant over the earliest years:
Mr. Herman Wanke built it and had his son-in-law, Mr. Jack Ploof, manage it.
Mr. Mike Aune and his wife Ann leased it in the early 40's.
Mr. V. J. JanDu (T-Bone) (no date or other details).
J. A. Ballord (no date or other details).
Mr. and Mrs. Max Prokasky (approximately 1948).
Mr. and Mrs. John McFarlin (1950 or 1951; called it "Jack and Katie's").Mr. and Mrs. Richerts who ran it as "Richerts Resort Supper Club" (no date).
Mr. and Mrs. Claude O'Malley purchased it and called it "O'Malley's" until 1971.
Mr. and Mrs. Don Schmidt, who changed the name to Fisherman's Inn Supper Club.
Mr. and Mrs. Nick Bowlus bought it in 1974
The placemat actually reads as follows:
"In the early 1930s what is now Fisherman's Inn was a small building which sold beer and sandwiches. It was built by Mr. Herman Wanke, and run by his son-in-law, Mr. Jack Ploof. Mr. Mike Aune leased it in the early 40s. It was then sold to Mr. V.J. JanDu (T-Bone) who in turn sold it to Mr. J. A. Ballord. Mr. and Mrs. Max Prokasky then purchased it. They built on the porch with storage underneath; at the time it was just screened in and not used in the winter months. Mr. and Mrs. Prokasky then sold it to Mr. and Mrs. Jack McFarlin who raised the building and made living quarters underneath. The McFarlins then sold it to Mr. and Mrs. Richerts who ran it as Richerts Resort Supper Club. In the middle 60s Mr. and Mrs. Claude O'Malley purchased it and ran it under the name of O'Malley's until 1971 when it was purchased by Mr. and Mrs. Don Schmidt who changed the name to Fisherman's Inn Supper Club. It was then purchased in 1974 by Mr. and Mrs. Nick Bowlus. In 1979 they built on a 20 by 40 banquet room and new rest rooms. On June 16, 1987, Ralph & Esther Peterson, Jim & Theresa Peterson and Don & Nancy Klassen purchased the Fisherman's Inn. It is you, our customers, that have made this business grow in the last 49 years. We all thank you."


Revised Placemat
In his recent book called, Alone With My Memories, Max (Jack) Prokasky tells a bit about when he and his wife Dolly owned the property. He has allowed us to quote him here.
"I guess we thought there must be easier ways to make a living than farming. We had an opportunity to buy a resort on Lake Zumbro which was called "T-Bone's Resort." We thought that would be an interesting life, but it was also a lot of hidden work which didn't bother us. We were used to working but dealing with the public was something we were not used to. My Brother, Chris, and his wife, Minnie, and Dolly, and I bought it and named it "Polack's Resort." We made some improvements and had a good business going in the two years we ran it. We met and made many new friends. Then one day the gentleman that tended our machines, offered to buy the resort and we sold it to him. He was a good operator and also ran a good business for many years called "Jack & Katie's."
Recently, Jack Prokasky wrote the following in a letter sent to the Oronoco Area History Center:
"Dolly and I and my brother Chris and wife Minnie bought "T-Bones Resort" around 1948. We owned and operated it as "Polack's Resort" for about two years. During that time we added on the porch with a basement under it. It was only opened from early spring to late fall. On the first day of fishing season we stayed open all night long to accommodate the fishermen. We also rented fishing row-boats and sold minnows. Our menu consisted of "Chicken in a Basket" (batter-fried) and "Barbecued Ribs" for $1.50. They came with French fries (made from fresh, hand-peeled potatoes) and toast. We also served many hamburgers. The second summer we added steak to our menu as well.
One day the man who serviced our juke box and pinball machines was inquiring about the business. He indicated he would be interested in buying the restaurant and so we sold Polack's Resort to Jack and Katie McFarlin."
Jack and Katie McFarlin are gone now, but their daughter LaVon Stolp of Oronoco shares some of her memories here.
"I had just finished the eighth grade at Central High School in Rochester when Dad and Mom said we were moving to the White Bridge. They had bought a restaurant called "T-Bone's" from Jack and Dolly Prokasky. It was the summer of 1950 or 1951. I had no idea where this place was. Dad was working for Mayo Priebe who owned machines like pinball, jukeboxes, etc. Dad would stop in at White Bridge to service the machines, count and take the money, change the records, and I guess that is how he happened to know it was for sale. I have no idea how much they paid for it. The building was just the bar and porch section where the salad bar is kept now, also bathrooms and a small kitchen.
The menu was Chicken in a Basket, Barbecue Ribs, tenderized steak, and hamburgers and French fries, of course. Dad would get the chickens that were already cleaned from a Mrs. Stiller who lived just outside Oronoco on Highway 52. He would layer them between pieces of ice in a big wash tub and have them in a walk-in cooler. Our meat came from Erdman's Meat Market in Kasson. Mr. Erdman delivered it himself and always stayed to eat.
My Mother was a wonderful cook. I waited on customers and learned how to cook from her. I don't think I was paid very much as a wage, but I did get some good tips and made many friends of our customers. Our potatoes were peeled in a round barrel-shaped machine. It was my brother Bill's job to tend the machine. When the peelings had all been worn off, we cut the potatoes with a French fry cutter.
One time Mom cut her finger really bad and had to go to Pine Island for stitches. I think it was Dr. McKaig who took care of her.
We got our fresh vegetables from Gamble Robinson's in Rochester. Everything had to be cleaned, all from scratch, nothing precooked, except the ribs. They were already hickory smoked and Mom just had to brush on her secret sauce when she broiled them.
They later expanded the menu to include shrimp, scallops, pike, and also T-bone steaks."
(Evidently, T-bone himself never served T-bone steaks when he owned the restaurant.)
LaVon continued "We had French and American fries, but no baked potatoes back then. I cooked and cleaned so many shrimp that I can't stand them to this day. However, my mother's batter recipe was the best I have ever tasted. I used to fry onion rings one at a time. They were perfect and so good. Bill and I used to make our own potato chips and that was fun. Boy, all the hamburgers and French fries we wanted! But soon you really didn't care anymore. Mother made tartar sauce by the gallons and had some customers who would want a quart or so to take home. I still use that same recipe today.
We had a girl named Frances who came to help mother before the kitchen opened making the salad and doing other things. One day, she didn't put her car in park and after she came in, her car rolled over the bank and into the lake. She was quite concerned because there was a musical instrument in the back seat that one of her children played. She thought her husband would be very upset with her. Another bad thing I remember were times when someone drowned in the lake. That happened several times while we were there.
When we first moved there we had free shows (outdoor movies). I don't know how often, maybe twice a month anyway. Everyone looked forward to them, but then Dad announced we were getting a TV instead. Who needs a TV? The shows were more fun. People could sit on blankets or in their cars, bring snacks, and enjoy the show. I suppose it didn't bring much money into the restaurant, however.
We had a few boats that people would rent for fishing or just riding around the lake. It was a much nicer lake then. You could come from Cedar Beach by boat and dock out front, come up and have a nice dinner, and then go from there. The bridge was also there and you could make the rounds, as they say, stop at Fogarty's and then Sandy Point. I think people did a lot of drinking and driving at that time. The place would be packed on weekends and Mom didn't close the kitchen until 11:30 or 12:00 midnight so customers would come from dances and stop for a burger and fries before they went home.
Dad had the building jacked up and had living quarters built below the restaurant. We had three bedrooms, a bath, living room, kitchen, storeroom, and furnace room. Before that we lived in a few different places, across the bridge in a small cabin, also a farm house, and a trailer; so living downstairs was a real treat for us, and we had some good times there.
The business was open at about 5:00 p.m. week days and earlier on Saturday and Sunday. It was closed on Mondays and that was my only day off. I missed most of the things teenagers do because I had to come home from school and go to work. Looking back, it was a good life. I didn't get into much trouble. I met Larry there and we went together for four years and married in 1956.
Mom and Dad sold the place to Carl and Florence Richert from the Elgin area in about 1958. They were customers and then became friends, I guess. By that time I no longer lived there."
Richerts did not have the restaurant very long before they sold it to the O'Malley's. Not very long after that Mr. O'Malley died suddenly. Mrs. O'Malley put the place up for auction.
At that time, Don and Ruth Schmidt ran a restaurant across the lake. It started as a root-beer stand. They added onto it and made an indoor restaurant. They named it after their two daughters Kelly and Koni. It was called the "Kel-Kon." When they heard that the O'Malley restaurant was up for sale, they made a bid on it. Turned out that they were the highest bidder so they took over the place. Now they owned two restaurants, one on each side of the lake. They named their new purchase "Fisherman's Inn." They remodeled the building somewhat and added a room. The very day they were laying the carpet in the new room was the day that the accident happened which destroyed White Bridge.
In 1972 the bridge was accidentally struck by a car driven by Vernon Jahnke who came from the west and struck a crucial supporting beam. Over half of the bridge fell into the river. Mr. Jahnke was a teacher at John Marshall High School in Rochester. His driving ability may have been impaired by medicine given to him when released from the hospital. He survived, and it is believed he was not charged for the accident.
Schmidts had to drive the long way around to get to the other side of the bridge to tend to both businesses. They soon decided to put the Kel-Kon up for sale. A family named Berg (Wava, David, Barbara, and Porky) bought it first and then they sold it to Rick and Mary Chapman. Either the Bergs or the Chapmans changed the name to Fun City. After many years, the Chapman's sold it to Jim and Connie Hasley who named it "Party Cove Bar and Grill." Though it now has a similar name to a topless bar in Florida, it remains the same kind of family restaurant as was when the former people owned it. Here is a link to the web site of the Party Cove Bar and Grill: http://www.partycovebar.com/
A Bailey bridge was loaned to the County by the U.S. Corps of Civil Engineers and served for a few years until the new Sandy Point Bridge was built further up the river. At that time, the Bailey bridge was returned to the Corps. The remaining abutment on the west is now used as a fishing location. The east end has been entirely removed.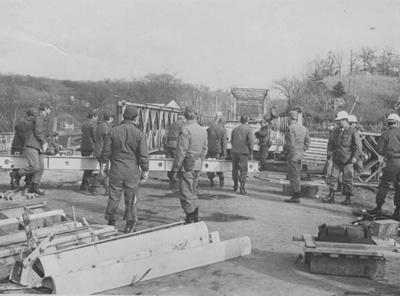 The Engineers Working on the Bailey Bridge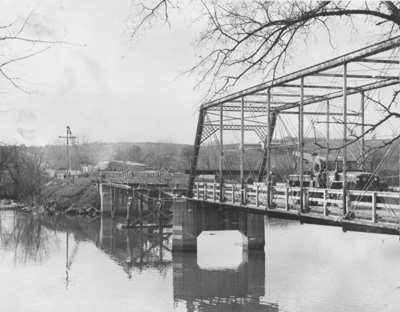 The Bailey Bridge Being Moved in Place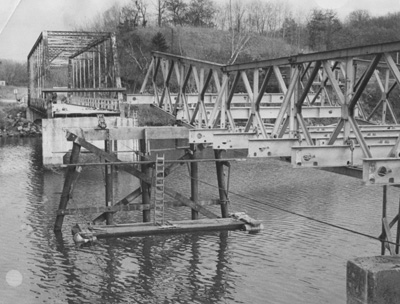 Another View of the Bailey Bridge
The romance of LaVon McFarlin and Larry Stolp is not the only one that happened in the area of the Fisherman's Inn. When White Bridge was destroyed, a boy who lived on the east side of the river was dating a girl who lived on the west side. He was forced to row across the river to see his sweetheart. The couple was later married. It is no secret that the boy was Mike Fogarty and the girl was Norma Kubista.
Don Schmidt was a great entrepreneur and a good judge of character. He once said of some of the employees that they were either "born waitresses" or "born cooks." He complimented a couple of the girls by saying they were good at both jobs. One of his favorite waitresses, to be sure, was his mother Ann Schmidt who worked way past retirement age. She was in her late 80's when she quit. They also hired a lot of young kids and found themselves helping to parent many of them.
The next owner was Nick and Pat Bowlus. Nick had come back from the Korean conflict and he and a buddy, Don Williams, decided that they wanted to run a beauty shop. They went to school and learned how to be beauticians. Over the next few years Nick won several awards for his hair styling. They started the Fashion-aire Beauty Salon on 7th Street NW in Rochester. Although they no longer own the Fashion-aire, the business that they started has continued for over 50 years. When Nick left it, Don took over. When he retired, he sold the business to the current owners, Ervin and Eileen Berg.
It was in 1977 that Nick and Pat decided to buy the Fisherman's Inn from Don and Ruth Schmidt. They continued to serve many of the same foods, but they also enlarged the building. They, too, managed to help parent some of their employees, mostly neighborhood kids. Especially, Pat; the kids all loved her. Nick was a bit harder to get to know. He was strict because he knew what was needed to run a successful business and keep the customers coming back, but he often talked very fast and was difficult to understand. He ran a good restaurant.
Nick loved to fry different foods dipped in batter to see how people might like them. Besides the fish and shrimp, he batter-fried onions, mushrooms, cheese curds, carrot sticks, cabbage hearts, cauliflower, and even one time batter-fried a Snickers bar.
The kids that worked for Pat tell of what a wonderful boss she was. She was strict about the work and could get on their case if they did something they shouldn't. One girl tells how one day when they weren't busy, they decided to write their names in the grease that had collected on the walls and ceiling. Of course they didn't expect to get caught. Pat walked in on them and had such a look on her face that they were afraid she was going to fire the lot of them. However, all she said was "Everyone who has written their name can now get some cleaning cloths and wash the walls and the ceiling." The kids did exactly as she told them.
Pat always had the kids help clean up at the end of the day; nobody went home until the place was cleaned up and ready for the next day. Most of the time, they sat down and ate together after it was closed. When it was hot outside, they would go out and jump in the lake with their clothes on. Those that didn't want to do that would sit on deck chairs and visit with one another. After a very busy Sunday such as Easter or Mothers' Day, Pat and Nick would take all the employees to Perkins in Rochester to treat them for all their hard work. They treated their employees as if they were just one big happy family.
They stayed there for 10 years, which is quite a long time compared to earlier owners. Many of their employees stayed a long time with them, which says something about what good employers they were.
Over these years, many people in this area have eaten at this fine restaurant. Many others have worked there. In our family, all of our five children have worked there, and one daughter, Rita Kirchner, has been there over 20 years, working her way up from teen age bus girl to General Manager. She started working for Nick and Pat in 1977 and has continued to work there for the Petersons. She has a chef's certificate and is well known for her delicious soups and cheesecakes. She was always interested in cooking and she learned a lot from home, I hope, but also from Patty Bowlus who knew how to cook restaurant food. Our family has become so familiar with the Fisherman's Inn that we have a nickname for it, often referring to it as "The Fish."
The U.S. Postal Department uses the name "White Bridge" for the street which runs along Highway 12. The street that leads off the White Bridge Road and goes to the location where White Bridge used to be is now called Fisherman Drive NW. The official number for the road is 118. Highway 12 was rerouted and now goes on east to where a new bridge was built across the Zumbro. It is commonly called the Sandy Point Bridge.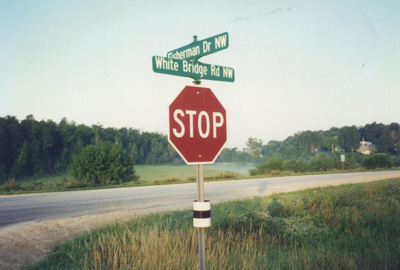 The Street Sign where Fisherman Drive Intersects with White Bridge Road
Each of the owners added new items to their menus and built on or remodeled in some way to improve the restaurant. It has turned into a very fine place to dine. It has come a long way from being just a snack bar for the local fishermen.
In 1987, the restaurant was purchased by the Peterson family. Jim, his wife Theresa, and his parents, Ralph and Esther were partners in this venture. This article is being written in 2009 which tells you how long the Petersons have stayed. They have outlasted any of the earlier owners. Ralph Peterson was a Lourdes coach in the 1950's and Esther worked in restaurants for 40 years. She was the first waitress that Perkins hired when they came to Rochester.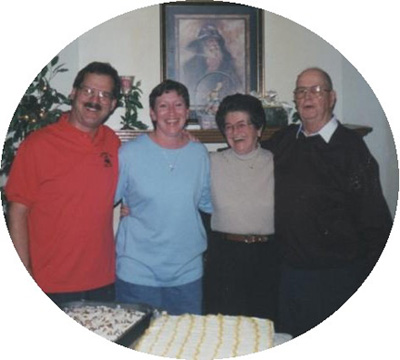 Jim Peterson, Rita Kirchner, Esther, and Ralph Peterson
Ralph and Esther retired from the business a few years ago. Ralph passed away in 2007. Jim and Theresa have three children who were toddlers when they bought the restaurant. They are now approaching adulthood. Remember the commercial where the cute little girl said about the food that it was "mighty tasty"? She is all grown up now and continues to be an asset to the business.
Along with the restaurant, the owners had responsibility for the boat docking ramp on the west end of the property. It was a thriving business of its own that needed an employee to collect money for docking and to sell items from the snack shop that was built beside the dock
In a newspaper article from the Rochester Post Bulletin, there is this statement: "The inn seats 130 in two sections, one of them a raised roof wing built on in 1979 to handle the crowds. Its deck has been expanded for water shows Wednesday evenings in the summer. The Petersons hope to add a bar on the deck and they're renovating the small kitchen."
The Rochester Water Ski Show has been held for many years in front of the Fisherman's Inn every Wednesday night between Memorial Day and Labor Day. This is an event that draws customers to the Fisherman's Inn. Click on the following link for more information about the ski show: www.rochesterwaterskishow.com
At one time, there was quite a bit of competition for the Fisherman's Inn in the area of White Bridge. To the south along the river was Sandy Point, a restaurant which was recently sold and is now a row of town houses on the lake called "The Dwellings." Across the river from the Fisherman's Inn on one side there was once a bar and restaurant called Fogarty's. Mrs. Mary Fogarty's hamburgers received high praise from many a fisher person. Fogarty's is no longer in business.
Fisherman's Inn – 2007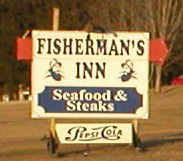 Not Advertising; just part of History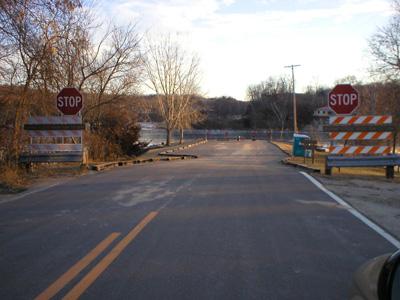 Fishing Pier Where White Bridge Used to Be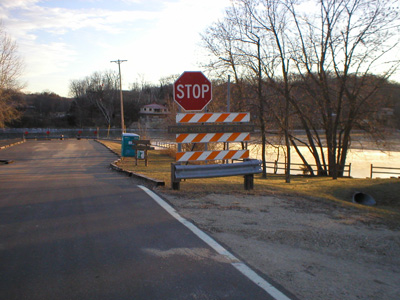 Another View of Fishing Pier Where White Bridge Was
After many years of bad usage, the Zumbro River has lots of problems and is in need of dredging and other recovery projects. The Zumbro River Recovery organization is working to try to restore the Zumbro to a better condition. Here is the link to that organization's web site: http://www.lakezumbro.org
Hopefully, there will be many more good years ahead for the Zumbro River and for the Fisherman's Inn.