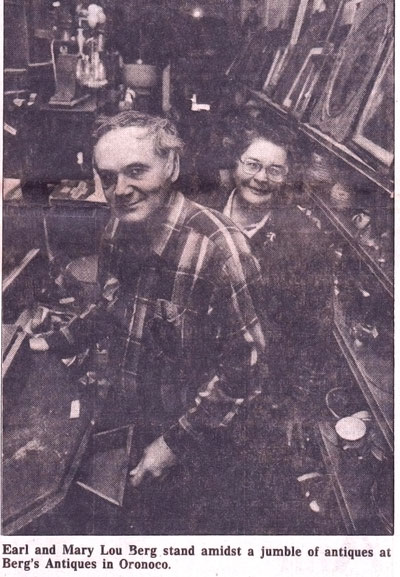 History of Oronoco Downtown Gold Rush
(from Interview with Mary Lou Berg in 2011;
Photo above from 1986 Rochester Post Bulletin)
Earl and Mary Lou Berg started selling live bait and tackle from their Oronoco garage in 1961. Two years later they bought the big brick building next to the bridge in uptown Oronoco and moved their bait business there. They added groceries, picnic supplies, and beer for tourists and fishermen.
The store was open from 6:00 a.m. to 9:00 p.m. They lived for two years in the back of the store in a partitioned-off area.
The brick building had been empty. It had belonged to the Ondler family and was a grocery and general store. It was still open in 1959, but was empty when the Bergs bought it in 1963.