Max (Jack) Prokasky has donated two of his books to the Oronoco Area History Center. Shown below are three of his works. The pamphlet on the left was written quite some time ago. The gold book in the middle, A Flash of Memories, tells of some of Jack's hunting and fishing experiences with his companions who were mostly from the Oronoco area.  The silver book on the right is Jack's latest, Alone With My Memories.  We express our most sincere thanks to Jack for this precious donation.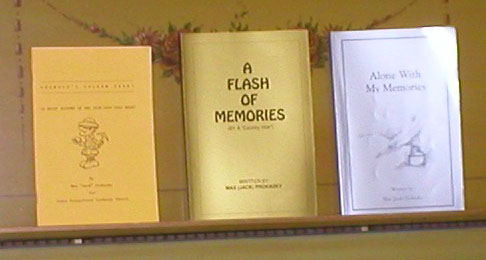 There are several authors from the Oronoco area who have either written about Oronoco, or who are from Oronoco and have written about their travels elsewhere.  Two authors mentioned already on this web site are Elsie Boutelle and Ann E. Rice.  Ann E. Rice's book was only a manuscript and was never published, except for having been typed up by Elsie Boutelle for her book Oronoco Past and Present which is shown below: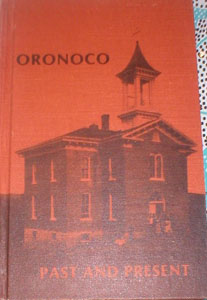 The Center also displays the following books:
My Life, East and West, the earliest book about Oronoco that we know of, was written by William S. Hart, the movie actor.  (His book is the gray one pictured below with another book.)
Helen Douglass wrote about the railroad that ran through her home town and the township of Douglas.  The book also tells a lot about early Oronoco.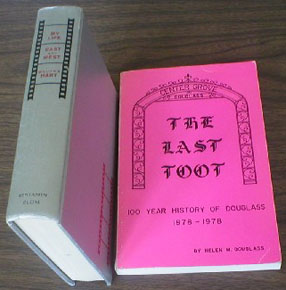 The most recent writer from this area is Matthew Mohlke, who has donated copies of his book about his experiences while canoeing down the Mississippi River entitled Floating Down the Country and his more recent book The Man Who Swam the Amazon.  Matt wrote the following inside the cover of the latter book, "5-22-08 – to the Oronoco Area History Center.  Boyhood exploration of the Zumbro River near Oronoco kept leading to bigger rivers."  The History Center is most appreciative of Matt's donation of these two books.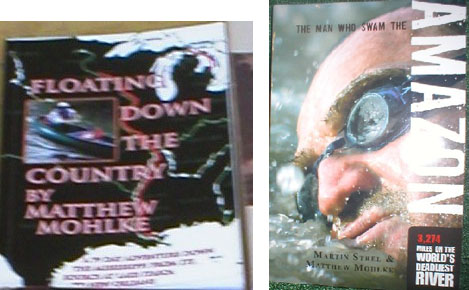 Visitors may read these books at the Center; however, the books must remain there for future readers to enjoy.  Some of the older books are very rare, and it is important that they be preserved.
The OAHC invites news and stories about other citizens of renown from you, our readers.  If interested, please contact the Oronoco Area History Center.